Unlimited Students
The EasyCourseCreator Learning Management System is capable of hosting an unlimited number of students. The system makes it easy for you to enter a student's information and assign them their prescribed online courses or students, clients, and/or employees can sign themselves up for training (free or fee-paid) if you allow this through one of your websites hosted in the LMS.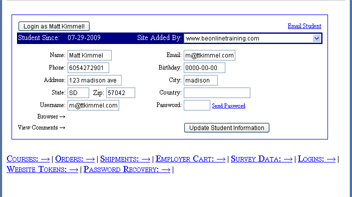 Features of EasyCourseCreator LMS Student Control Panel:
Assign courses
View ordering / enrollment information
Edit student-specific pricing (if a student is able to purchase courses at discounted rates)
Student survey data
Login dates and times
View employees/students signed up under a different student/employee
Student-instructor communications
Email students or send passwords
Referral information
View test scores (dates, times, etc)
View / Print Certificates of Completion
There is no limit to the number of students you are able to enter into the student database. The only limiting factor is the internet bandwidth to your server. This limitation is normally only an issue if you have large groups of students logging into a course at the exact same time. Since the courses are all interactive and available online at all times, most students are taking the courses at different times and spreading out the server use over time.