Student Instructor Forum
The Easy Course Creator LMS features an interactive student-instructor forum that allows instructors to add frequently asked questions into the course database. Students can go through these questions categorically or they can be presented with questions that are relevant to the current course lesson they are taking. Students can even search the interactive student-instructor forum for specific keywords to find answers to the questions they have.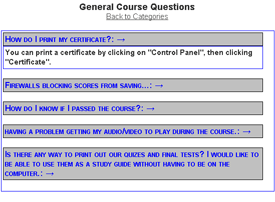 Instructors and administrators can enter any information they want into the student-instructor forum or create it "as they go" by answering course questions through the web message system and choosing to copy them into the forum.